This is a companion company to HAC and is the conduit for marketing our software.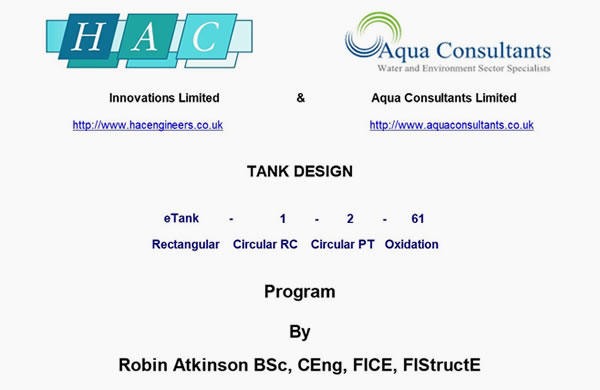 Robin Atkinson has been involved in the development of structural engineering design software since the early 80s. He has extensive experience in the design of water retaining structures, basements and transfer slabs using coefficient tables, grillage and finite element techniques.
The design of large water retaining structures requires a lot of criteria to be considered such as: exposure, crack control due to thermal or applied forces and ultimate design. The calculation of crack widths due to bending and tension is particularly challenging.
HAC INNOVATIONS LIMITED is a private limited company whose registered office is Unit N, Bourne End Business Park, Cores End Road, Bourne End, Buckinghamshire, SL8 5AS.  Company Number 8748896.
Robin developed an Excel spreadsheet in 2000 to assist in the design to the then current codes of practice and guidelines such as CIRIA Report 91, BS8007 and BS8110. This spreadsheet has been used successfully on many projects.
The spreadsheet was comprehensively updated in 2009 to become HAC-PRO to include design to EC2 and CIRIA C660 as well as complying with all of the associated codes and national annexes. It still includes design to BS standards and is an ideal program to ease engineers into the use of EC2 and CIRIA C660. This spreadsheet is an invaluable tool for checking the automatically generated reinforcement output from sophisticated programs and HAC are pleased to make this available to other engineers at a modest cost.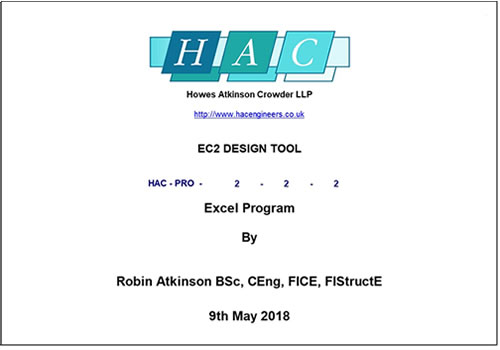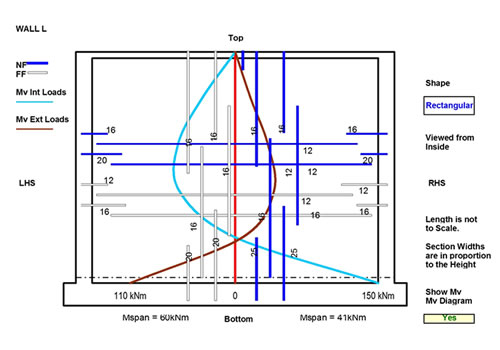 Robin teamed up with Aqua Consultants in 2013 to develop an automatic tank design and costing program. This allows the design of rectangular, circular, oxidation and post-tensioned tanks.  It uses coefficients based on fixed, hinged or free boundary conditions.
Robin prepared many FEA models of wall and slab panels to enable existing tables to be extended.  The program is able to read and interpolate these tables for any liquid height and panel proportions to automatically deliver a first pass and realistic set of forces.  The program then uses HAC-PRO to establish sensible section thicknesses and then a reinforcement arrangement that satisfies the design criteria.  It then uses the entered rates to calculate the approximate cost.
The program is available in Excel format via HAC or in an online format via Aqua Consultants.
This page explains how to download the programs and activate the.
New users will have a 30 day FREE TRIAL.
After that the program will prompt you to copy and paste your Computer ID into an email to us.
Return to this page and select the required program purchase or licence renewal.
Then, pay via PayPal using the Buy Now button.
We will then give you a licence key for a year's use.
Purchase Program or Renew Your Licence