Pipe Bridge – Self supporting pipe bridge over a canal.  The drawing shows the piled support foundations and anchor bolt assembly.
Process Pipework – High pressure (16 Bar) and low pressure (0.5 Bar) buried pipework together with pipe schedule. Thrust blocks are designed to CIRA 128 and checked against passive pressure criteria. The drawing was prepared using PamCad Software by Saint-Gobain. In one case the chamber itself was used as a thrust block.
Plant Base Slab – Drawing shows a typical raft base slab for a process plant including plinths, ducts, MCC cable pit, chemical bunds and frame holding down bolts. It also shows an internal drainage channel and slab falls.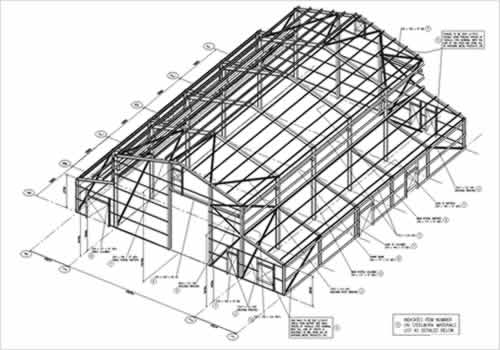 Plant Building Steelwork 3D – Our designs are prepared using QSE or Staad.Pro Space Frame computer software. The programs enable us to export into MultiSteel which works in 3D within Autocad. We have translators which allow us to export full detailing ready models into Strucad or XSteel for the fabricator to use. We are therefore able to offer a 3D model for review and use by the rest of the team at the early design development stage. Usually the 3D model is only available from the steelwork fabricator once he has completed his fabrication drawings.
Steelwork Elevations – Usually, the process / plant buildings require blockwork for insulation and many penetrations for louvers, pipes and ducts etc. The careful coordination of openings / doors and bracing as well as blockwork restraint details is essential. Even though 3D drawings are immensely helpful, 2D drawings are still vital in the design process.
Clarifier Tank GA – This tank was supported on 300mm x 300mm driven piles.  It was designed using a 3D Grillage Analysis. The pile positions were optimized to equalize the pile loads and slab stresses as much as possible.
Clarifier Tank RC – The Tank was detailed using the CADS RC detailing package.  Care was taken to avoid congestion as the bars reach the centre. The hopper base slab was reinforced in an orthogonal manner.
Site Drainage – An example of an above ground surface water drainage scheme for a premix plant. Below ground pipework is not suitable in these applications as it will inevitably get blocked.